After the Firebird's interior floorboards were replaced, I decided to start working on the engine and front end area. Our plans were to rebuild the engine with new aftermarket aluminum heads and clean it up. The best way to remove the engine/ transmission is to remove the whole front end and since it was very rusty up there, it definitely had to be taken apart for restoration. Removing the whole front end seemed like the only reasonable way to get the engine out. Also you will find out there is more rust than expected. It was a mess and took a lot of patching up holes with the welder.
So the first thing I did was remove the front fender/ quarter panels, the front bumper, and then later on the radiator support. TIP: Be sure to get some good penetrating oil for rusty bolts.
Some of the bolts were so rusty that I had to use a cut off grinding wheel to cut the bolts and it can be hard to reach inside some of the tight spaces. It can be tedious.
You can see a larger picture of the Firebird's front bumper and front fenders removed below. The fenders wheel wells and radiator support is still intact but a post will be shown soon of them removed as well.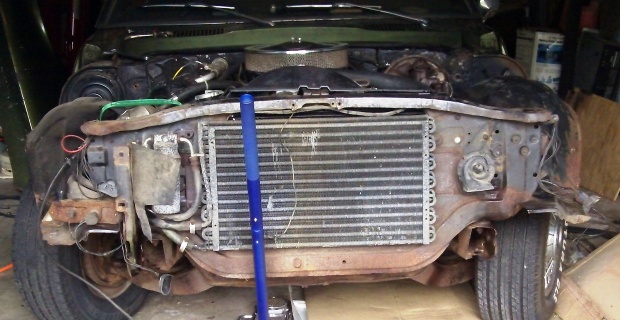 If you have any questions or a better tip for removing the front end for taking the engine out, post it below. Thanks for checking out my 68 Firebird site.