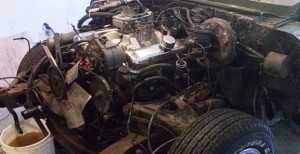 Now that the Firebird's front bumper and most of the front end is removed as shown before, I started digging in deeper to remove the engine. For this to happen, I removed the front fender wheel wells which was located as a separate layer of sheet metal under the front quarter panels. Some old cars have them connected to the quarter panels and the Pontiac Firebird doesn't. To un-bolt the wheel wells, there are four or five bolts located under the wheel well.
Next I had to remove the radiator so you need to drain all the coolant. I placed a bucket underneath the plug and then under the bottom main hose to get it all out as you can see in the picture. I just removed the whole radiator support with the radiator attached for the time being. To remove this there are two large bolts on each side of the radiator support that have to be loosened. It sits on a rubber damper which was falling apart and needed to be replaced. (More on that later).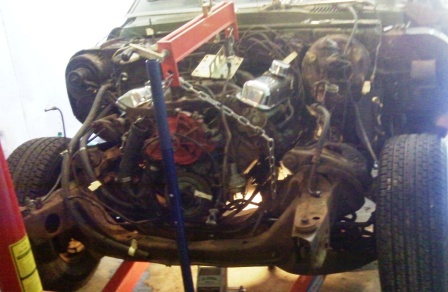 With the radiator and wheel wells out of the way, I removed any components that might have got in the way when pulling out the engine. I removed the radiator fan (4 bolts), the power steering pump since it was hooked up to lines, and all other hoses & electrical wires. Be sure to mark any wires before pulling them off so you know how to put them back later. I always use masking tape and write what it is on both sides or use a reciprocal ID number.
Now you can start planning how to pull the engine out with an engine lift as I started doing in the picture above. I wasn't sure what the best way since its the first time removing an engine from a 68 firebird.